Pfff... Je viens de voir sur e-bay que l'on vendait une épreuve d'imprimerie de la couverture du F.F. #49...
OK, ce "bon à tirer" est sans doute unique et date de 1966, mais de là a en vouloir 6500$, c'est vraiment n'importe quoi ! C'est plus cher qu'un original... (bon, maintenant, j'ai aussi vu des originaux de Kirby à 25000$)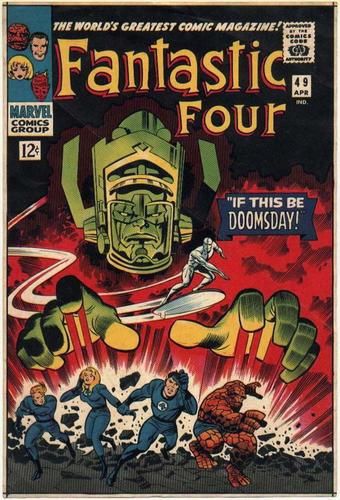 Voici le texte original qui se trouvait sur e-bay :
This is an original color cover proof for Fantastic Four #49, published by Marvel Comics in April of 1966, and featuring cover art by Jack Kirby. This is a single sheet printed proof of the cover, and measures approximately 7 1/8" by 10 5/8". Please note that this is NOT a newer mass-produced print or lithograph. It is a cover proof that was created during the production process for the comic in the 1960's, and used internally by Marvel. The piece is in good overall condition, but does have handling wear that is to be expected with production pieces. There is general wear including some creasing, and please note there is also a long fold/crease mark that goes diagonally through the piece. The second picture shows the back, which is blank.
The cover features probably one of the greatest and most important images that Jack "King" Kirby and Joe Sinnott ever did, and came during what many regard as the finest run they and Stan Lee had on the Fantastic Four, from FF #1-75. This is the classic "If This Be Doomsday!" cover, which features Galactus and the Silver Surfer attacking, as The Thing, Mr. Fantastic, the Invisible Girl and the Human Torch all run away to avoid the blasts. This is a truly historic piece, as Galactus and his herald the Silver Surfer made their first appearances in the previous issue (FF #48), but were not shown on the cover. This is the first-ever appearance by both Galactus and the Silver Surfer on a comic book cover !

To say that this piece is rare would be a truly major understatement. Silver Age Marvel production art is extremely scarce, particularly since there was no Marvel equivalent to DC's Jack Adler that made a conscious effort to save production pieces. So there is generally not believed to be nearly as much Marvel SA prod. artwork still in existence, as there is in the Adler collection of DC pieces. And to get a significant piece from the classic 1960's Stan Lee and Jack Kirby FF run is a truly rare find. With Kirby's 60's FF original covers going for upwards of $30,000-$50,000 (and having increased since the last summer blockbuster movie sequel), this is a much more reasonable way to own a landmark piece of production art from the series. An exceptional and unbelievably rare piece of comic production art, that would look great framed, and would be a true key piece in any collection.